Thank u my dear friends 4 supporting me in this unusual journey.
This SS is ending here.Plz give a detailed comment on the last part.Plz do write ur favourite character,favourite scene,favourite jodi n why u liked them.
Part 10
Ricky:You both are so caring to each other.You both can't bear the pain of each other.
Sita:Then why don't you both promise to be with each other in every manner?
Jaggi:Means?
Sita:Why don't you both get married?
Gopi and Jaggi were shocked.
Gopi:Sita!
Ricky:I also support Sita.
They were shocked.
Gopi:Ricky..you too?
Ricky:What mistake is there in it?Don't tell me that for that beast ex husband of yours you want to remain single till the end.You need to move on Maa with the person who cares for you.I have only seen you suffer in married life.Now i want to see you leading a happy married life.
Gopi's eyes got welled up with tears.
Ricky:And Jaggi chachu is like my father.The love which i did not get from my real father ..I got from you chachu.So I want you and Maa together in every way.
Jaggi became emotional:Ricky!
Sita:You both can create a heaven if join your hands together.
Gopi looked at Jaggi.Jaggi was looking at Ricky Sita.
Gopi turned off her face.Jaggi looked at her.
Seeing her in pain Jaggi stared at Ricky Sita.
Jaggi:In this age you want us to get married?
Sita:Why not?For marriage and love age is not a barrier.
Ricky:Maa..you may be worried about what the society will think when you get married after your son got married.But don't care about the society as far as we are there with you both.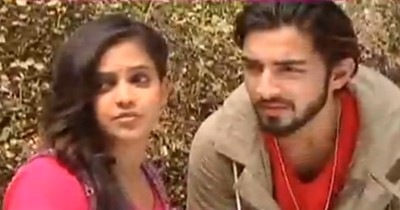 Gopi:Ricky..why don't you understand?I have never seen Jaggiji that way.
Jaggi:Even I have seen Gopiji only as a friend.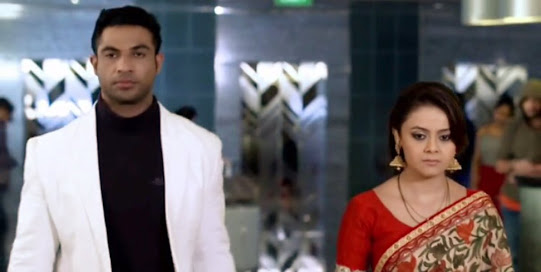 Sita:But there is thick friendship between you both.Right?That's enough for a relationship.Love will happen gradually.
Ricky:This friendship will bloom into love making your marriage beautiful.
Jaggi and Gopi walked away silently.
Ricky:Did we hurt them?
Sita:No Ricky.It's just a shock as they never thought of it till now.Give them more time to take a decision.
Ricky:But we should not force them.
Sita:Yes.You are right.
After a month…
Ever since the alliance talk started Jaggi and Gopi felt awkward to face each other and Gopi started avoiding him.
Once Jaggi stood before her.
Jaggi:Sorry Gopiji.This time i won't let you go without talking.
Gopi was stunned.
Jaggi:I know why you find it difficult to face me.Even I felt the same.But Gopiji…we need to come out of the shell.Right?How long can we run away from this?Either put an end to it or start it fresh.
Gopi:What do you mean Jaggiji?
Jaggi:Gopiji..I thought a lot about it.I feel Ricky and Sita are right.I think I am ready with this marriage.
Gopi was stunned:Jaggiji!
Jaggi:Gopiji…our children really want us together.For their happiness why can't we get married?
It's true that we are not lovers,but best friends.Right?Why can't we get married like a typical arranged marriage style?Think well Gopiji.


Gopi:I need some time Jaggiji.
Jaggi:Ok Gopiji.No problem.
Ricky:It's been a month Sita.Maa and chachu have not talked to us about their decision nor they are talking to each other.I think we spoiled their friendship too with our stupid plan.
Sita became dull.

Suddenly Jaggi came and said:I am willing to marry Gopi.
Ricky and Sita were surprised:Really?
Jaggi:Ya.But I am not sure about Gopiji's decision.
Suddenly Gopi came:My decision is…
All were tensed.
Gopi:I am also willing for this marriage.
They were very happy.
Ricky and Sita hugged Gopi and Jaggi in excitement.
Ricky:We are so happy.
Gopi:But one condition.It should only be a simple temple wedding.
Sita:Done.We will contact the punditji.
Ricky and Sita went out.
Jaggi looked at Gopi.Gopi was shy.
Satrangi mausam ho
ya gham ke badal ho
Jaggi:You took this decision happily.Right?
Gopi:Yes Jaggiji.I thought we both need a second chance in life.

Jaggi smiled.
phoolon ki sej ho
ya kanton ki raahein ho
They shared a sweet eye lock.
mere humkadam mere humsafar
raah mein chod na jaana
har kasam tod na jaanaa


Slowly he held her hand.She blushed.
sath nibhana saathiyaa
sath nibhana saathiyaa
sath nibhana saathiyaa
Jaggi and Gopi got married in the temple in the presence of Ricky,Sita,Ishita and Raman.
Suraj ke sang kiran
deepak sang jyoti hain
saagar ke sang lehar
jaise hum saathi hain


Ishita:They are such a unique couple who found love in each other in middle age.

Raman:We both are also loving each other madly in middle age.

Ishita blushed:Ravan Kumar!
Raman smiled:Jhansi Ki Rani.
They both giggled.
Sita:I am so happy for Gopi Maa and Ricky chachu.They are so cute together.
Ricky:Really Sita.I also feel a special happiness which can't be expressed.I hope now onwards Maa's life will be filled only with happiness.
Sita:Yes Ricky.Both Maa and chachu will live happily..always.
He smiled.
Ricky said romantically to Sita:By the way today you look like a bride.
Sita:And you look like a bride groom.


They shared a romantic eye lock.
After a year…
Gopi was decorating the house for some function.While walking fast in a hurry she collided with Jaggi and fell on his chest.To get grip she held Jaggi tightly. Jaggi held her closer to protect her from falling.
oo mere sanam
ho khushi ya gham
Then they both realized that they were in an embracing position and became shy.
naa churana humse nazar
sang rehna umar barr

Slowly they moved away from each other.Gopi walked away blushing.Jaggi blushed.
sath nibhana saathiyaa
sath nibhana saathiyaa
Sita's baby shower ceremony was going on.
Jaggi and Gopi did puja for them.
Gopi:Let this baby be the sweetest in the world.
Jaggi:Let God bless the soon to be parents too.


Ricky Sita smiled.
Ricky caressed her belly:I can't wait for our baby to arrive.


Sita smiled embracing Ricky.
Suddenly Jaggi disappeared.Gopi went out in search of Jaggi.
Suddenly she found him near the pool side.
Gopi:Jaggiji..why are you here?
Jaggi:I knew that you will come in search of me.That's why I came here as I wanted us to be alone in my favourite area.
Gopi was stunned:Why Jaggiji?
Jaggi:Gopiji..I wanted us to be in this lovely area when i open my heart to you.I mean..Gopiji..I am not romantic like the new generation to do decorations and bring costly gifts to propose.But i can do it in a simple way.
Gopi was shocked:Propose?
Jaggi:Yes Gopi.Though we were only good friends gradually after marriage i fell in love with you.Recently only i realized my love for you.I love you Gopiji.
Gopi was stunned.
Jaggi:I won't force you to love me.But I can't pretend to be just a friend as I really love you.
Slowly Gopi smiled:Like you unknowingly i too started loving you Jaggiji.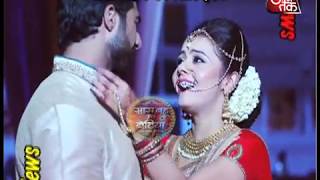 Jaggi was surprised:Gopiji?
Gopi nodded shyly.He came closer to her and held her hand.He slowly lifted up her chin.
They both looked at each other's eyes with pure love.
sath nibhana saathiyaa
sath nibhana saathiyaa
The End