#IshVeer Ki Shaadi
@Main Venue
@Bali
@Indonesia
---
---
Paridhi is shown standing looking at Vatsal and Kanchi. She spots Jeevika and calls her.
Jeevika beta
Ji maasi.
Beta listen
Ji boliye
What have u people thought abt Kanchi's wedding ?
Sochna kya hai maasi..shes only 22. Bacchi hai
But they would get her married if they find a good boy right ?
I don't know maasi. Badimom knows best
.whats she studying ?
Last year.
oh…
Kyun maasi ?
Nothing beta. Just like that…
Paridhi grins and walks away.
Jeevika pats maya .
inhe kya huwa ??
I don't know .
Is it u too or only me who thinks something is fishy ??
Its only u . pagal.
Maya pats jeevika's head and walks away.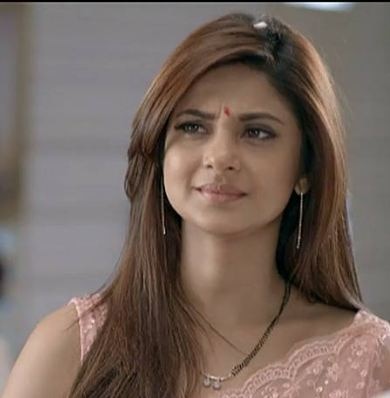 ---
---
@other side
@mandap
---
---
Pandit ji – gathbandhan ki vidhi ka samay ho gaya hai. Kripya dulhe ki behen ko bulaya jaay…
Maya comes.
Anahita frowns – kaanchi..where is kaanchi ?
Ranveer smiles – its okay mom. Maya di is my eldest sister. She will do my gathbandan.
Ishani smiles.
Maya comes and does their gathbandhann.
Maya smiles – may god bless this jodi. May u guys have all the happiness of the world. May u be blessed my prosperity, success and children. Vivah ka yeh gathbandhan itna masboot ho..ki koi todna toh dur ki baat..dheela bhi na kar paye..
She hugs both of them.
Pandit ji – gath bandhan ki vidhi samapt hui ! pheron ka muhrat shuru huwa !
---
---
Ishveer stand up.
Pandit – the first 3 pheras would be lead by the bride and rest 4 by the groom
Ishveer start the phera. All shower flower petals on them.
---
Nayi Nayi Si, Yeh Khwaishein Hai,
Jaise Fiza Ki, Yeh Saazishein Hai,
---
Viren – The couple prays to God to extend his blessings to them in the form of healthy food and give them strength to live together & respect each other in good and bad times
Jeevika – . They promise to nourish & take care of each other's needs.
Ishveer take the first phera
Viren and jeevika reminise their pheras. He hugs her
---
Tu Hai Toh Harpal, Ab Raahatein Hai,
Jaise Fiza Ki Ye Sazishein Hai,
---
Shivaay – In this, the couple pleads to God to give them mental stability, spiritual strength, and physical health so they can live a smooth life.
Anika – They also promise that from today they are two souls and one heart and will always to be there for each other to ensure laughter and smiles.
Ishveer take the 2nd phera
Shivaay Anika reminise their pheras.
---
Teri Baatein, Mulaqatein,
Satati Hai, Kayi Raatein,
---
Arjun –  the couple prays for wealth, prosperity, and wisdom to live life peacefully and with contentment. They ask God to give them enough strength so that they can share the happiness and pain together.
Maya – During this phera, they also promise each other to be utmost faithful and never cheat in this relationship for any third person.
Maya and Arjun remember their wedding time and hug each other.
---
Sajna Ve, Sajna Ve, Itna Na, Tarsa Ve,
Sajnaa Ve, Sajnaa Ve, Sajnaa [x2].
Pandit ji – ab dulha aage aye
Humne Toh Tumko, Dil De Diya Hai,
Kaise Kahein, Par Yeh Na Pata Hai,
---
Laksh – Marriage is believed to be about two families and not two people. The vows recited during this phera highlights the commitment between the two souls to increase in love and respect for each other and their respective families.
Ragini – In this, the bride is also said to walk before the boy and promises that she will accept death before him if it ever comes on his way.
Laksh and ragini think about their wedding and smile at each other.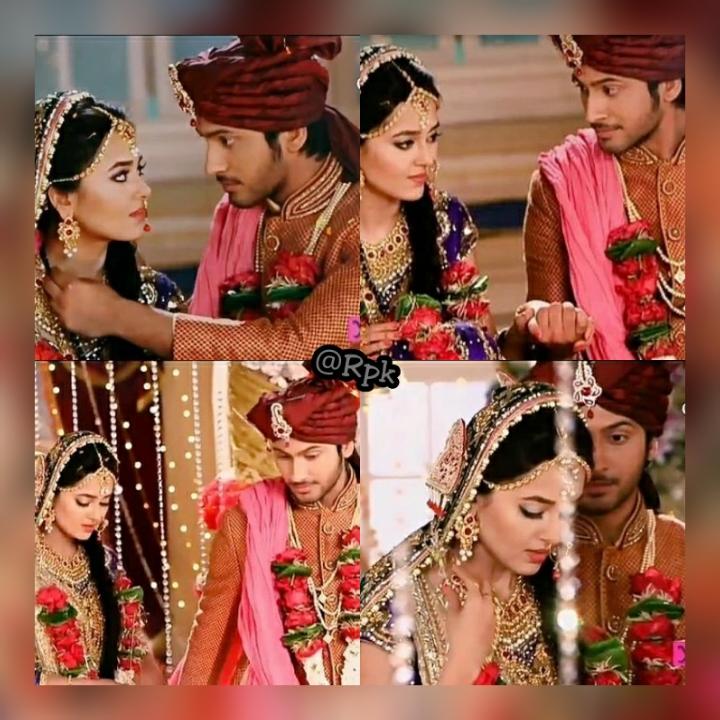 ---
Tujhse Hi Mere, Din Ye Khile Hai,
Aankhein Kahe Par, Lab Yeh Sile Hai,
---
Sanskar – In this phera, the couple promises to be with each other in every thick and thin and share joy and grief. They also pray to God to bless them with healthy kids and promises to nurture them well with good values and an enriching lifestyle.
Swara – in the sixth phera , the couple asks for a fit and healthy long-life filled with joy, prosperity, and peace. They promise to always stand next to each other in bad health or when needed and support each other in all devotional duties.
Swara smiles and puts her head on sanskar's shoulder . he cups her face.
---
Sajna Ve, Sajna Ve, Itna Na, Tarsa Ve,
Sajna Ve, Sajna Ve, Sajna [x2].
---
Pandit ji – In this final round, the couple prays for loyalty, togetherness, companionship,  understanding and unconditional love between themselves. They ask for enough patience & maturity to make this beautiful bond last long.They also promise to do every possible thing to carry out all the promises taken during this holy ritual with pure and honest intentions.
the pheras are completed. All clap.
Pandit ji – phere sampann huwe !!
---
---
@Meanwhile
@shri  ganesh mandir
---
---
Twinkle and Kunj are shown . they are shown standing in front of the mandir corner.
Twinkle smiles at him.
---
Flashbback
---
Kunj is shown talking on call.
Hello yaar…ha don't worry. Im wearing kunj's sandals. No one can steal it and no oe candemand money. Yes. Haha !
---
End of flashback
---
Twinkle – kunj..u know why today is a pecial day for us. Right ?
Kunj – yes darling. I know.
Twinkle – ganesh ji ki ashirvaad nahi loge ? vaise bhi..we wont get to do rituals
Kunj smiles – okay..come..
He removes the sandals and they enter the mandir.
Twinj close eyes and pray.
Twinkle opens her eyes and winks at Naira. Naira winks back and takes away the shoes of the groom.
Kunj opens his eyes. Twinkle hugs him suddenly.
I love u buddu raam…
I love u too..but…budduram kyu ???
Wait beta ji..pata chalega soon..
Twinkle laughs and runs away. Kunj looks on confused.
He screams – oh no..juta!!!!!!!!!!!!!!!!!!!!!!!!
Whole venue is shown shaking !!
---
---
@mandap
---
---
Pandit di – sindoor daan ka muhrat shuru huwa….
---
Raahatein Teri baahon mein
h Chahe meri Teri raaton mein h
Meri lakiro mein Teri lakire miley is trh
Jaise sagar se milne ko barsi ho boondein  bewjh
O morey saiyann
naino m tuhi basey
O morey saiyann l
agja tu aake gle
---
Ranveer fills Ishani's hairline with vermillion. Tears of joy drip down ishani's eyes.
he wears her the mangal sutra. they smile widely.
All clap loudly.
---
---
@other side
---
---
Naira is shown standing with shoes . kartik comes . naira hids them.
Naira baby…
Kartik…tum…
I have something for u ..
.kya /? Show me…
.
He gives her a bracelet.
.kartik..this is so sooooo beautiful
Not more than u …
This muyst be very expensive na ??
Not more than u …
Kartik ..tum na !!
Thankyou…
She hugs him.
.u r a blessing. U make all my tasks so easy bae…
Naira smiles. He breaks the hugs.
I have work hm.. see ya !
Hmm
Kartik walks away…smirking
Naira smiles – ab jute..wait…jute!!!!!!!!!!!!!!!!!!!!!!!!!!!!!!!
Whole bali is shown shaking !!!
---
---
@Main venue
@#seven vows station
---
---
All families are shown standing.
Pandit – ab saath vachan ki baari….
Ranveer – wait pandit ji…I want..my elder siblings to recite the vachans before we repeat. As they r true ocuple goals..epitomes of love.for me
All smile.
---
#hume tumse pyaar kitna instrumental plays
---
Viren –  dulha kahega …
#'You will offer me food and be helpful in every way. I will cherish you and provide welfare and happiness for you and our children'
Jeevika – dulhan kahegi ..
#I am responsible for the home and all household, food and finance responsibilities'.
Virika think about their past…
---
Shivaay – dulha kaho…
Together we will protect our house and children'
He kisses his baby shivi.
Anika – ab dulhan bole..
'I will be by your side as your courage and strength. I will rejoice in your happiness. In return, you will love me solely'
Shivika smiles as this matches their story.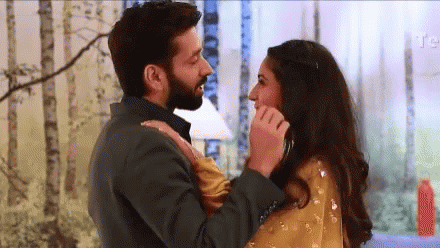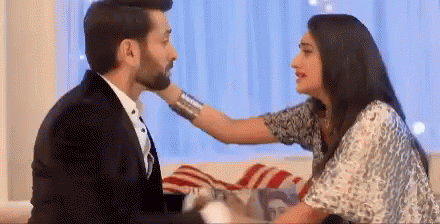 ---
Arjun smiles – ab dulha bolega…
# May we grow wealthy and prosperous and strive for the education of our children and may our children live long.
Maya smiles . – u did just that….ab dulhan ji ..boliye
# I will love you solely for the rest of my life, as you are my husband. Every other man in my life will be secondary. I vow to remain chaste'.
She remembers Aditya and wipes her tears.
---
Ahem smiles – dulha bole…You have brought sacredness into my life, and have completed me. May we be blessed with noble and obedient children
Gopi smiles – dulhan bole… 'I will shower you with joy, from head to toe. I will strive to please you in every way I can
They smile and hug each otherss.
---
Sanskar smiles – dulha..wada karega.. You are my best friend, and staunchest well-wisher. You have come into my life, enriching it. God bless you'
Swara smiles at him – dulhan vachan degi… I promise to love and cherish you for as long as I live. Your happiness is my happiness, and your sorrow is my sorrow. I will trust and honor you, and will strive to fulfill all your wishes'.
They remember their moments and hug each other.
---
Laksh smiles – dulha bole.. Now that you have taken six steps with me, you have filled my heart with immense happiness. Will you do the kindness of filling my heart with happiness like this for all times?
Ragini holds his hand – dulhan vachan degi… I will always be by your side'.
They think their memories and hug.
---
Ishveer repeat the vows.
Ranveer smiles at ishani – ishani… We are now husband and wife, and are one. You are mine and I am yours for eternity
Ishani smiles too – ranveer .. As God is witness, I am now your wife. We will love, honor and cherish each other forever.'
Pandit ji smiles – vivaah sampann huwa !!!
All smile.
Ishveer hug each other.
---
---
---
Precap – Juta Churai…Bidaai..Griha Pravesh..wedding dinner…Twinj are shwon in varmala..Dadi gets heart attack.
The post Sajna Veh – Epi 41 – "The Sindoor Daan" appeared first on Telly Updates.