Episode 25
---
---
15 months later…..
---
@Raichand Mansion
---
The whole mansion is shown decorated beautifully. Pink and blue flowers, balloons, and decorative lights are shown . a huge banquet is shown. The tables are filled with varieties of dishes. People dressed up as tom, jerry, mickey mouse, and barbie are shown. Different, toys are shown decorated and scattered in a rhythmic way.
"welcome to Baby Shivika's naamkarann" is shown written in a huge board .
Dada dadi are shown coming down the stairs. Dadi is shown in specs with a beautiful saree and open hair, while dada Is shown in a handsome tuxedo . they are shown greeting guests.
Gopi , who is eating a sweet dish smiles at her.
Gopi – jai shri krishna aunty ji.
Dadi – namaste beta ! how are you ?
Gopi – im just fine . jai shri krishna uncle ji .
Dada ji – jai shri krishna. Kya baat hai Gopika ? ur becoming more and more young each day uh ?
Dadi – kuch toh sharam kijiye. She is your grandson's mother in law…
Dada ji and gopi laugh .
---
---
Maya and Jeevika are show arranging sweets . they are dressed beautifully.
Maya – Jeevu..i have tought about Niharika ? how is that. It even matches with Anika !
Jeevika – uh…di , what about Nancy ?
Maya – that's too modern yaar !
Ashish comes from behind and gulps a sweet from maya's hand.
Ashish – the baby is to handle the Raichand industries. So it should sound good with raichand. Rachita Raichand !
Viren comes laughing – oh I thought u would say..Aishwarya Raichand , bade papa ! oh she's so beautiful
Jeevika fumes – wah wah viren ji ..u have such a pretty wife.still u keep leering at women. That to older women ! chi ! shame on you !
Maya laughs – milf !
Viren – areh ..ajeeb baat hai yaar..she's a celebrity …
Jeevika – whatever
Jeevika shows her tounge and walks away .
---
---
@otherside
---
Suhana is shown placing gifts and arranbging them. Ranveer and Kunj are helping her.
Suhana – ranveer. Where is bhabhi ?
Ranveer – not sure mumma, but mom must be talking to her friends . what else !
Kunj – choti mami ji ..why do I have a feeling that Badi mami ji is extra happy after baby's birth .
Suhana smiles – she has become Nani beta. Isnt it obvious ?
Kunj – no I meant..becoz the baby is a girl. That's why she is…
Suhana dims.
Ranveer- areh..stop blabbering yaar . u will understand when u become a grandmother .
Kunj rolls his eyes – that will never happen
Ranveer- hwy ..oh sorry sorry !
They share a laugh.
---
---
@Swasan's room
Swara is shown beautifully decking up in a gorgeous red saree in her dressing room. Sanskar comes out of the washroom in his white achkan. He looks at her mesmerized . swara wears her jewellery and does her hair . sanskar smiles. He comes to her and hugs her from behind. Swara looks at their reflection and blushes. He turns her around. And takes out a waist chain from his pocket.
Sanskar sits on one knee and removes her pallu slightly, and wraps the waist chain around her waist. Swara coyly looks on their image in the mirror. Sanskar smiles and traces her navel with his fingers.
Swara closes her eyes and grips his hai softly.
Sanskar smirks and softly kisses her navel. He then softly places kisses around her stomach area.
Swara blushes blood red. He gets up . swara raises an eyebrow.
Kya baat hai janab ? bari lalach ho rahi hai ?
Ise lalach nahi begum..hawas khete hai…
Sanskar pulls her by her waist . and looks at her in the eye.
Jism ke lalach ko hi hawas kehte hai chote raichand sahab..
Swara says seductively .
Chale…ab sau samunder pyaar ho toh 10 samunder hawas hona bhi banta hai..after all so stunning you are , baby doll.
Swara giggles. Sanskar smiles. He cups her face.
No swara…its not lust. For today the best thing I have for u is respect. Thankfulness. U were lone in the house with bhabhi, u took her to the hospital alone in riots. U managed everything all alone, swara . im so proud of you. im just speechless swara. You are my pride !
Swara's eyes get tearry
no sanskar. Anika is my bestie . before ur bhabhi . she lost her first baby. I couldn't let it happen twice. Thank god , Arjun bhai (surgeon ) was there. Or else…
Don't think or else. The thing is ur just stunning and I love you !
Swara smiles and hugs him tightly – I love u more sanskar. I love u more !
Awhh…Such a liar u are,
Sometimes chalta hai . (chuckles)
They both smile.
---
---
@Raglak Room
Ragini is shown decked up in a beautiful black saree. She is looking raging hot. Lakshya comes out in his achkan from washroom and dresses his hair. He looks at her and gets lost. Ragini wears her earrings as he stares at her.
She gives him s*xy glares.
Ragini gets off and comes to stand in front of him. Laksh seems lost. Ragini giggles. She plays chutki..
Laksh!!
.uh..ha..ha…ragini …
What happened to u ..ladki dekhi nahi ki pisal gaye ha ?
.nope..im very sakht ,…okay ….*defends*
Oh…
Ragini tugs at his buttons and rubs her nose and lips around his collarbones and neck…Laksh gets sweaty..
.okay…stop it Ragini. Fine. U melt me.
. I knew it..
Well, I have to admit one thing..ur looking such a Maal today…
.lucky..(slaps his shoulder ) what language is that hmm ???
She is about to leave when laksh grabs her from behind and hugs her.
What can I do..this is jobless language …high society people like u wont understand !
Ragini breaks the hug. She looks at him intensely.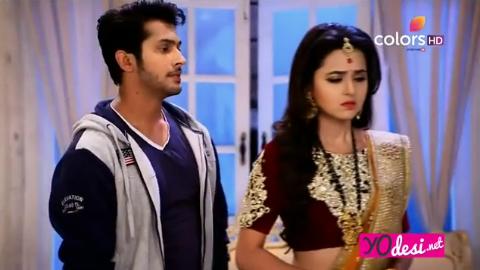 Laksh…you…
.leave it ragini…today is a day of celebration and…]
Im sorry laksh…
Ragu…
Mom e till u have a baby and here im unable to give u one
.are u crazy..nothing works like this. I have neough money to idly . okay baccha ?
Hmm
And now I have u as my baccha..waise bhi ii don't want a baby right now..
Ragini smiles. Laksh hugs her. Ragini pouts .
---
---
@shivika room
Baby is shown lying down on bed in a pink frock and a pink swaddler. She is only 15 days old.
Shivaay is shown playing with it.
.my little cuckoo bird, look at u …ur so tiny. Tiny lips..tiny nose..and those biggy biggy eyes. Blue blue eyes..like papa..my cute baby..ur papa's baby.not mumma's baby..okay baby ? my raja baby !!
Baby smiles at shivaay .
Anika comes wearing a white saree and flaunts herslef.
.tell me how is it looking ?
Looking like a cute little pink rabbit panda !
Kya ???
Huh…ha..why ?
Shivaay !! me !!! me..not ur daughter.
.u look nice anika..
He coontinues palying with her.
My shona baby..my princess doll…my little kcuhi…
Anika crosses her arms
Kamal hai…earlier u used to say I was hot, beautiful,stunning, and what not..now , only nice. U only love ur baby now not me.
Shivaay laughs hysterically.
He comes to her and grabs her face.
Anika…I love her . I love her a lot. But if u think that I love her more than u ..then…
Anika blushes.
Shivaay shows her his tounge and runs away holding the baby.
Anika fumes only to giggle later.
---
---
@Hall
Raichands, walias, shergills, sharma s all are shown .
Kanchi is shown looking after food. Sp comes from behind nd scares her.
Whooo!!!
Aaaaaaaaaaaaaaaaaaaaaaaaa!!!!!!!!!!!!!!!!
.darr gayi !
Oh god..sp u scared me.
U r always a scary cat ..Kach Kach !
Stop calling me that now..we are not kids anymore. If any guy heardt hat na..his crush on me would be lost.
Kach kach kach kach kach kach..kaanchuu..we are besties from playgroup , and callingu that is my birth right.
.by the way…why is ur lawyer brother so akru always/
Ro bhai ?
.Rohan.
He is not akru. Just shys in front of me.
Me ? why…
I don't know
I heard ur NRI cousin Vatsal is coming..
Oh yes…soon
I heard he's very hot
That he is..hotness runs in our veins sista !!
Well im waiting to see him. Anyways..dont call me ur bestie okaay?
.?/
Because these days, Durga is ore important than me ..
.she is my second bff..ur always the first ….!
Kanchi smiles.
---
---
@After a while
---
All family are gathered near haavan kund. The whole family suggests names for the baby.
Anahita – kanchi…its bua's right to name the baby. So go and name her.
Kanchi smiles.
Kanchi syas a name in baby's ears .
Whole family smiles . episode ends on all's smiling faces.