Hello guys, thank you everyone who read and like this FF. Thank you sissy Jasmine.
---
CONTINUATION:
Next day, everyone gathered in living room.
Rakesh: i Like your kids very much.
RaghuVeer: even we too like your kids. Then next what?
Dadi: next what? Marriage, dance, celebration.
Rakesh: i stayed with your two kids for few days, so i can guess Sangya also. I know about them. But you know my kids only for 2 days. Are you agree to this marriage whole heartedly?
Sarla: our ma like your kids and she know about them. That's enough for us, also they are so respectful to elders. We too like them.
RaghuVeer: we are ready to give our two daughters and take your daughter. You fix wedding date according to your wish.
Ronnie: If it is tomorrow means also, it's ok for grooms.
All laughed.
Abhi(hisses): Ronnie, i think it's too long you get a nice punch.


Abhinav(hisses): if you come inside,
Purab(hisses): we will show it.
Ronnie Smiled innocently and he move towards Rakesh.
Rakesh: actually we have to go by next week. Also, Abhi and Abhinav has to go to hospital. They are trainee doctors. So,
RaghuVeer: no problem, we will conduct this marriage within next week.
Sarla: why to waste time?
Rakesh: Also, they have one more year for training. They can't cut these classes, so my daughter in laws can't come to your home for one year. Definitely i won't send them alone. If you wish, you can come and see them. And I can't come to see my daughter for next one year. Will you allow her and my son in law to meet us atleast once in six months?
All becomes emotional.
Ronnie: oh god, who introduce this tears? It's party time. We have to do shopping? I want 4 sets of dress.
Rakesh: why 4 sets of dresses, Ronnie?
Ronnie: oh god, this too i have to tell. For, haldi, mehandi, sangeet and wedding.


Abhishek: Mehandi is girls function Ronnie, then do one thing dad, buy lehengaa for him.
Ronnie: do another thing dad, buy another three sets  of Lehenga for those three, who will sneak into Mehandi function.
Trio: Ronnie
They start chase him. All are laughed at them.
They starts shopping and arranging everything for wedding.
Next day, everyone gathered  breakfast. Abhigya where missing.
Sangya brings Pragya and Abhinav brings Abhi.
Dadi: where you both went? Sit down for breakfast.
Both hesitates.
Dadi: what?
Both: Dadi.
Pragya: you tell first.
Abhi: you tell first.
Pragya: you
Dadi: someone tell first.
Both: i keep fasting.
Both look at eachother.
Pragya: are you mad to keep fasting? You are doctor na, don't you know whatever side effects will come, if you don't eat.


Abhi: if i ask the same to you, what will be your answer? Are you mad to keep fasting? Have food first.
Whole family is witnessing their arguement. But they don't wish to interfere them.
Pragya: no i won't. You have.
Abhi: i won't. Don't compel me.
Pragya: then you too don't compel me.
Both left that place with anger.
In evening, Pragya came to have food after completing her fasting. Then she rememberd Abhi who to keep fasting. She went to his room. He comes to her and asked what?
Pragya: come and have food. You can finish your fasting now.
He goes with her.
Pragya: why you kept fasting?
Abhi: i prayed God that all should happen, according to our wish. It happened so i kept fasting. I know you to kept fasting for that only.


Pragya(smiles): yeah, but you don't have belief in this fasting and all na.
Abhi: that is before i met you.
Pragya smiles and filled his flate.
Abhi: you too have with me princess.
Pragya blushed and says: i will have in your plate after you had.
Abhi: what?
Pragya: yeah, it's indian tradition to have food in husband's plate. This is sign of love.
Abhi: you know what that is not sign of love. If we have together in single plate by feeding each other is sign of love.
He make Pragya sit near to him. Both fed eachother from single plate.
Next day,
Abhinav: where we are going Dadi?
Dadi: to temple beta. It's tradition of our family to go to temple before starting any rituals of marriage.
Everyone gathered except Sangya.
Abhi: but Dadi rituals will start after to three days only na.
Dadi: today is auspicious day to go to temple.
Abhinav looks around, while everyone move out.


Purab: what happened jeju?
Abhinav: i am searching your didi.
Dadi: she won't come to temple Abhinav.
Abhinav: why Dadi?
Dadi(hissed in his ear): she has 3 days fever.


Abhinav(shouts): what? Fever? Why you didn't tell to me? Where is she?


Disha(hold his hand and hissed in his ears): bhai, 3 days fever means those 3 days.
Abhinav bit his lips for his stupidity.
Abhinav(awkwardly): sorry, let me stay with her. She may want anything, if no one is in home means.
Dadi: ok dear.
Sarla: but ma, for
Dadi: Sarla, Abhi and Pragya are coming na. They are sharing same sperm and egg with Abhinav and Sangya, so they are enough. Let him stay here.
Sarla nods and everyone left. Abhinav knocks Sangya's door. Sangya lies in bed.
Sangya: come in.
She get up when she Abhinav.
Sangya: why you didn't go to temple?
Abhinav: i wish to be with you.
Sangya hesitates.
Abhinav: are you ok, now. No pain na.
Sangya shook her head.
Abhinav: as a doctor i won't suggest tablet for these pains. If you wany shall i buy herbal medicines.
Sangya(smiles): i already had fenugreek. It will reduce pain.
Abhinav: i know you didn't have food. Wait i will bring.
Sangya: bring for you also. You too didn't have na.
Abhinav brings single plate.
Sangya: why you brought single plate?
Abhinav: we both will have in single plate. This is sign of love.
Sangya(blushes): how do you know these things?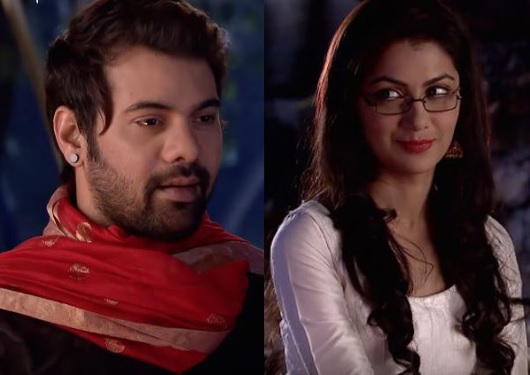 Abhinav remembers his presence in living room which is near to dining room when Abhigya  had food together yesterday.
Abhinav: i am naturally fond of love.
Then both have food together.
– to be continued.